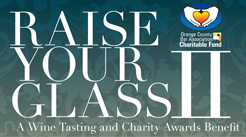 Cheers to Charity
Continuing on the success of last year's theme, the Orange County Bar Association Charitable Fund hosted the "Raise Your Glass II" Annual Fall Fundraiser, a wine tasting and charity awards benefit on Thursday, Oct. 2, 2014, at Big Canyon Country Club, Newport Beach. Event proceeds benefitted the OCBA Charitable Fund, a nonprofit foundation raising money for law-related charities in Orange County. The California wine country-themed event featured wine tasting, live entertainment, a live and silent auction. To view our a list of our event sponsors, please click here. For more info and pictures from the event, click here.
Apply for a 2015 OCBA Charitable Fund Grant

The 2015 Orange County Bar Association (OCBA) Charitable Fund grant application period has closed. The 2015 grants will be awarded to the recipients at the OCBA Chartable Fund Annual Grant Giving Reception on Thursday, February 26, 2015. The application filing period for a 2016 OCBA Charitable Fund grant will open in October 2015 and deadline will be: Friday, December 4, 2015.
30th Annual Golf Tournament Hits Record Attendance
The Orange County Bar Association Charitable Fund is pleased to announce that its 30th Annual Judge Kenneth Lae Charity Golf Tournament sold out with record-breaking attendance! Please click here to view the tournament results. To view photos from the event, please visit the OCBA Charitable Fund Facebook page. For a list of event sponsors, please click here.